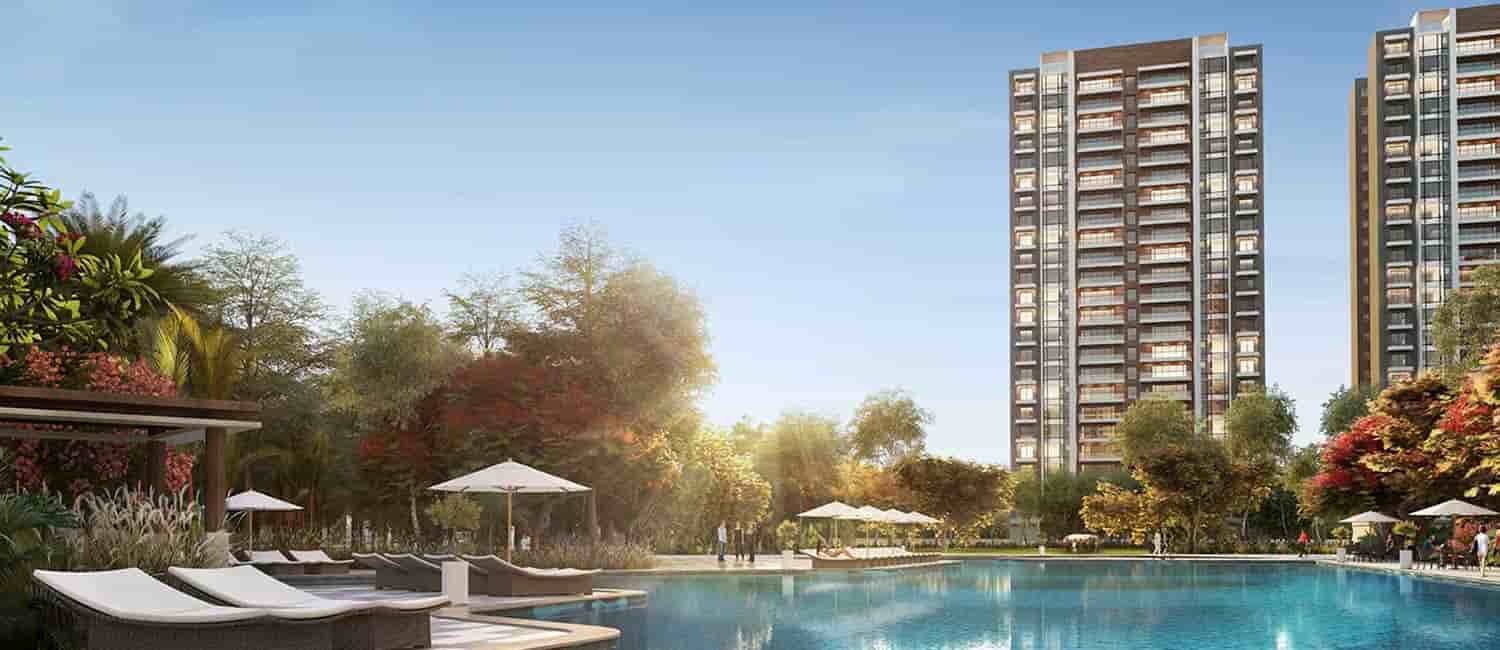 Sobha City Sector 108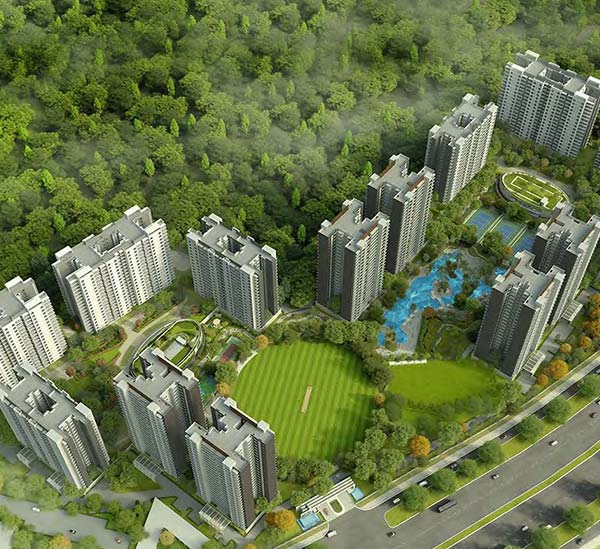 SOBHA CITY GURGAON - AN ADDRESS THAT SPEAKS FOR ITSELF
Characterized by Sobha Developers' high-quality standards, Sobha City in Chintels Metropolis Sector 108 Gurgaon is a sought-after premium residential development. Located on Dwarka Expressway, one of the fastest-growing corridors of Gurgaon, the project is slated to be an unmatched landmark, presenting the amenities and essentials necessary for a standard of living that is at par with the top residential communities in the world.
Designed by renowned architects, Sobha City an urban park development is planned as a haven of tranquillity, calm, and cheerfulness. The residential project is rich with visually gratifying vistas that are designed with a great combination of greenery, open space and water bodies. To make sure ease and harmony for residents and their family, straightforward and valuable measures have been taken. For example, the vehicular movement will be controlled to the periphery, with adequate parking spaces for both residents & their guests, separating the residential buildings and adjacent to the boundary of the project.
Sobha City comprises of 25 high rise towers that offer a blend of 2 and 3 bedroom apartments on 39+ acres of land. We are happy to announce that Sobha City Gurgaon Sample Flat is ready, where you can assess the specifications, luxury, privacy & comfort of these apartments.
USP's of Sobha City Gurgaon
Green open spaces and a dedicated camping ground
Overlooking Delhi's reserved greens and exclusive villa communities
8.5-acre urban park
The Lifestyle Edge
Sobha City Dwarka Expressway is a unique residential property in Gurgaon which boasts of a supreme infrastructure within the community that includes rainwater harvesting, electricity & water supply, maintenance services, and water treatment plant, etc. Perfect in every manner, this residential project is set to establish new standards in luxurious living communities.
Sobha City Gurgaon - Price List
Price
2 BHK
Tower : A1 | Unit Type : A
Size
1381 Sq. Ft.
Price
3 BHK
Tower : A1 & B1 | Unit Type : B
Size
1711 Sq. Ft.
Price
3 BHK
Tower : B3 | Unit Type : B
Size
1711 Sq. Ft.
Price
3 BHK
Tower : B1 | Unit Type : C
Size
2003 Sq. Ft.
~ Amenities ~
Presenting the ultimate lifestyle edge, this project in Gurgaon is ready to offer you all the necessary basics of living spaces that boast of pleased and relaxed lives. The residents will have access to a range of exclusive amenities like:-
Two Clubhouses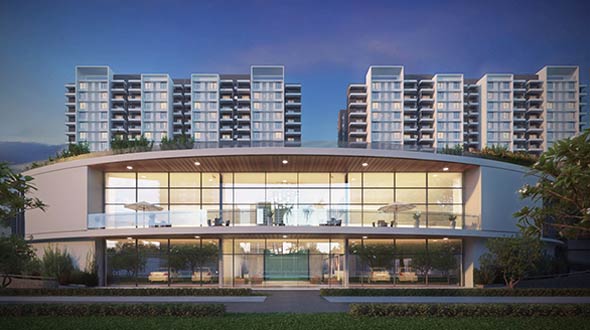 60m Long Olympics Size Swimming Pool
25m Long Indoor All-Weather Swimming Pool
Party Lawn spread over an acre
High Street Shopping and Daily Conveniences
To take care that you have everything you require enjoying a happy and satisfying lifestyle.
Sobha City Gurgaon Construction Update (January 2020)
Tower A1 - Flooring along with other fixture fittings in progress.
Tower A2 - 6th Floor roof slab in progress.
Tower B1 - Flooring along with other fixture fittings in progress.
Tower B2 - 6th-floor roof slab in progress.
Tower B3 - Basement roof slab in progress.
Tower C1 - Flooring along with other fixture fittings in progress.
Tower C2 - 14th-floor roof slab in progress.
Tower C3 - 5th-floor roof slab in progress.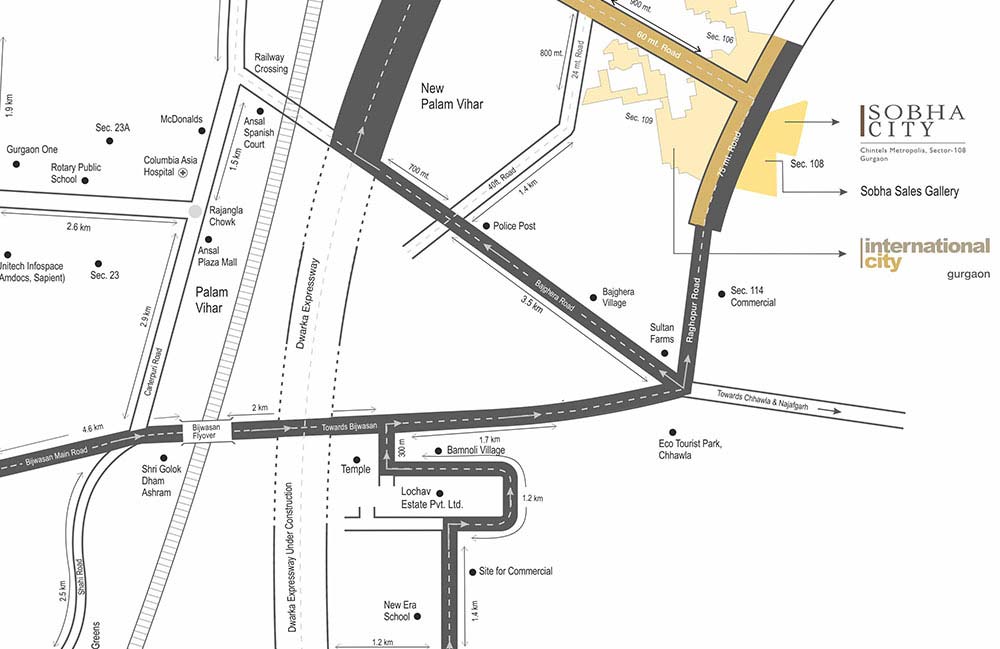 Location Advantage
Best Location for Seamless Connectivity
Located in Sector 108 right off the Dwarka Expressway
Best Schools like G.D. Goenka & DAV - 10 Minutes
South Delhi - 25 Minutes
South Campus - 25 Minutes
Gurgaon Central Business District - 20 Minutes
IGI Airport & Aero City - 15 Minutes
JW Marriot Hotel & Novotel Hotel - 15 Minutes
Diplomatic Enclave II - 10 Minutes
18-hole DDA Golf Course - 10 Minutes
Commercial Space, Retail & Entertainment and Office Spaces - 15 Minutes
IICC (India International Convention and Expo Centre) - 10 Minutes
Frequently Asked Questions

---
Question: Who is the founder of Sobha Limited?
Answer: Mr. P.N.C. (Puthan Neduvakkatt Chenthamaraksha) Menon founded SOBHA Limited in 1995. He is an Indian-born Omani billionaire businessman hailing from Thrissur in Kerala.
Question: How much is the area of 2 & 3 BHK Apartments in Sobha City Gurgaon?
Answer: The total area of 2 BHK Apartment is 1381.01 sq. ft., 3 BHK Apartments are available in the size ranging 1711.29 sq. ft., 2003.45 sq. ft., 2072.90 sq. ft. and 2343.44 sq. ft.
Question: What is the price of Apartments in Sobha City sector 108?
Answer: Starting price of Sobha City Apartment is 1.20 Cr. onwards.
Question: What is the possession date of Sobha City Gurgaon?
Answer: Construction work of Sobha City community is on full swing and available for possession from 2021.
Question: What are the other residential developments by Sobha Developer in Gurgaon?
Answer: Sobha International City is the best township in Gurgaon from this real estate developer.
About Sobha Developer
Sobha is one of the reputed names in Indian Real Estate Industry headquartered in Bangalore, India. This real estate developer is active in the business of construction, development, sale, administration, and operation, residential & commercial developments, townships and other real estate related activities. Their residential & commercial and township developments in 9 cities (Bangalore, Gurgaon, Chennai, Pune, Coimbatore, Thrissur, Calicut, Cochin, and Mysore) have fulfilled the desire of luxury home with international class features & amenities at a very reasonable price.